Popular
New Blog
New Blog Every Wednesday!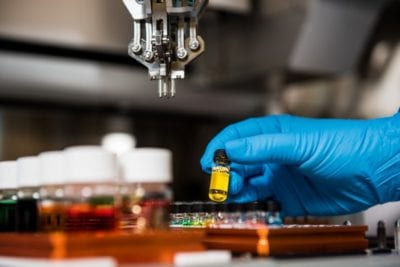 Researchers know that type 1 diabetes (T1D) occurs when the immune system mistakenly attacks and destroys insulin-producing beta cells. This leaves the body unable to self-regulate blood glucose levels because it produces little or no insulin on its own. What scientists have been striving to understand is what causes the body to destroy these cells in the first place.
A recent study found that the beta cells themselves may play a role in signaling the attack. The insulin-producing cells may be sending out signals that increase M1 macrophages that cause inflammation and the resulting cell destruction. The M2 macrophages that reduce inflammation and help repair tissue are not as heavily expressed.
The researchers looked specifically at Ca2+-independent phospholipase A2beta (iPLA2beta) enzymes and the resulting iPLA2beta-derived lipids (idles) and how they are activated by beta cells.  The idols either stimulate M1 macrophages or M2 macrophages depending on the active signaling pathways.
The study involved two sets of mice – one group that had no iPLA2beta expression (knockout mice), and one group with overexpression of iPLA2beta.  Researchers found that even when M1 macrophage activation was induced, the knockout mice experienced an increase in M2 macrophages and a reduced inflammatory state. The mice that had overexpression of iPLA2beta, on the other hand, experience an increase in M1 macrophages and inflammatory eicosanoids.
According to Sasanka Ramanadham, Ph.D., research co-lead, "To our knowledge, this is the first demonstration of lipid signaling generated by beta cells having an impact on an immune cell that elicits inflammatory consequences. We think lipids generated by beta cells can cause the cells' own death."
As scientists continue to learn more about lipid signaling and the potential role it plays in the development of type 1 diabetes, this could lead to improved methods of delaying or preventing onset or progression of the disease. This is yet another approach that researchers are taking to understand as much as they can about how and why T1D develops and how to better manage the disease.
It is this type of research that opens doors to advancements toward preventing or curing type 1 diabetes. Diabetes Research Connection (DRC) supports early-career scientists pursuing novel, peer-reviewed research studies focused on improving diagnosis, treatment, and prevention of T1D as well as improving quality of life for individuals living with the disease and one day finding a cure.
 The source: https://diabetesresearchconnection.org
Posted by Olga Litvinenko on May 20 2020 EscapedHashDropEscapedHashDropEscapedHashDropEscapedHashDrop
Swiss researchers have demonstrated a way to cure type I diabetes without cell transplantation. In model mice the reprogrammed non-islet cells from human pancreas.
Typically, only pancreatic beta, which lack in people with type I diabetes, cells can produce insulin. Pedro Herrera and colleagues investigated whether human pancreatic alpha and gamma cells from diabetic and non-diabetic donors could be reprogrammed to produce insulin in response to glucose. The authors report that increased expression of two key transcription factors (Pdx1 and MafA) enabled cells to produce insulin — the first direct evidence of plasticity of mature human non-beta pancreatic cells.
Herrera's team then tested whether these insulin-producing human alpha cells could relieve the clinical signs of type 1 diabetes in mice that lack insulin-secreting beta cells. When insulin-producing alpha cells from multiple donors were transplanted, glucose tolerance, secretion, and blood levels normalised in the mice. The cells continued to secrete insulin for up to six months after transplantation.
These findings provide conceptual evidence for plasticity of human pancreatic cells. Fostering this plasticity to replace missing cell populations could represent a potential treatment for diabetes and other degenerative diseases.
Posted by Olga Litvinenko on May 19 2020 EscapedHashDropEscapedHashDropEscapedHashDrop
All cells serve a specific purpose, and each one plays an integral role in the function and survival of the human body. However, in individuals with type 1 diabetes, insulin-producing beta cells are destroyed leaving the body unable to self-manage glucose levels. Scientists have been trying to determine exactly why this occurs, and how to stop, prevent, or reverse it for years. Each day they learn a little more.
A recent study out of Germany examines dedifferentiation of beta cells as a potential cause for type 1 diabetes.  Researchers believe that insulin-producing beta cells may lose their identity, which in turns causes a regression in function.  They sought to target the affected cells using diabetic mouse models to see if they could redifferentiate the beta cells back to normal function, or at least preserve existing function if regression is caught early.
To do this, they invoked diabetes in mice using streptozotocin but left some functional beta cells. Then, they administered a combination of Glucagon-like peptide-1 (GLP-1) and estrogen in conjunction with long-acting insulin.  The drug was directed to the dedifferentiated beta cells, and results showed that this combination treatment helped to "normalize glycemia, glucose tolerance, to increase pancreatic insulin content and to increase the number of beta cells."  They also found that when GLP-1/estrogen was used together, rather than each substance on its own, human beta cells also showed improved function.
The mice in the study showed no signs of systemic toxicity even when high doses of the drug were administered.  This could help to ease the way when the treatment is ready to be used in human trials. Researchers want to further explore whether this treatment could be used as a form of regenerative therapy to redifferentiate dedifferentiated beta cells and stimulate insulin production. If type 1 diabetes was detected early on, the therapy could potentially be used to slow or stop cell regression.
This study could change the way that some researchers approach their work and inspire new studies aimed at treating or curing type 1 diabetes. Diabetes Research Connection (DRC) supports early-career scientists in pursuing this type of work by providing necessary financial resources. With proper funding, scientists can move forward with their projects and improve not only understanding of the disease, but also treatment options.  The goal is to one day discover a cure.
Posted by Olga Litvinenko on May 15 2020 EscapedHashDropEscapedHashDropEscapedHashDropEscapedHashDrop
One approach that researchers have been exploring to treat type 1 diabetes is cell therapy. By introducing new insulin-producing beta cells or other types of cells, scientists strive to support the body in once again producing its own insulin. A common challenge with this technique is that it often has limited results as the body once again attacks the cells, or they slowly lose function on their own. In addition, cell therapy typically requires immune suppression which can put individuals at risk for other complications.
However, in a recent study, researchers tested a new method of transplanting therapeutic cells by using a retrievable device with a silicone reservoir. The cells are further protected by a porous polymeric membrane that allows macrophages to enter the device without destroying the transplanted cells, or that prevents them from entering at all.
When tested in immunocompetent mice, the device supported normoglycemia for more than 75 days without the need for immunosuppression. The transplanted cells were able to effectively produce erythropoietin, which in turn improves oxygen supply to the body, and also generates insulin to manage blood sugar levels.
This is a notable step forward in improving cell therapy for the treatment of type 1 diabetes. More research and testing are required to determine how this process translates into human models. Researchers have been trying to limit or eliminate the need for immune suppression while transplanting healthy pancreatic, islet, and stem cells into the body to control blood glucose levels.
Dan Anderson, Ph.D., a member of the Diabetes Research Connection (DRC) Scientific Review Committee, is the senior author of the article published regarding these findings. DRC is excited to see where these advances may lead and what it could mean for the future of cell transplantation techniques and cell therapy for type 1 diabetes. The organization provides critical funding for a wide range of projects related to improving diagnosis, treatment, and prevention of the disease.
The source: https://diabetesresearchconnection.org
Posted by Olga Litvinenko on May 13 2020 EscapedHashDropEscapedHashDropEscapedHashDropEscapedHashDrop